As a Dallas-Fort Worth personal injury and wrongful death attorney, I often consider motorcyclists to be the most vulnerable motorists on Texas roads. Motorcycle riders travel alongside much larger cars and trucks at highways speeds, yet they have none of the same protection as other vehicle drivers and passengers. In 2010 alone, 429 bike riders were killed in Texas, according to statistics compiled by the Texas Department of Transportation (TxDOT). However, perhaps even more vulnerable than motorcycle operators are motorcycle pillions. They have just as little protection as the operator, but as a passenger they have absolutely no control over the bike, meaning they literally put their life into the hands of the operator.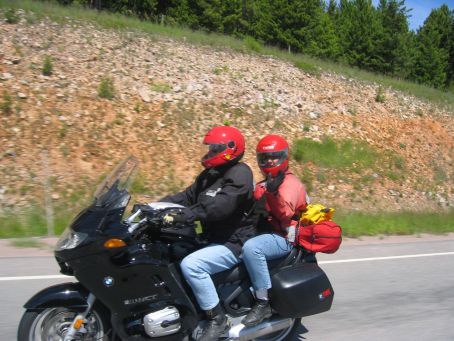 The Legal Rights of Motorcycle Passengers
Under Texas law, motorcycle passengers who are injured in a traffic accident have just as much right as any other individual to pursue a claim for compensation against the negligent motorist's insurance policy – even if the at fault party was the operator of the motorcycle they were riding on. Typically, in my experience as a DFW accident and injury lawyer, I have learned that the vast majority of automobile collisions involving a motorcyclist were actually the fault of the other motorist, but there are some occasions when it is the motorcyclist who is to blame.
A personal injury or wrongful death claim involves a claim for compensation against all available insurance policies. This includes the at-fault motorist's liability insurance, as well as any liable personal injury protection or underinsured motorist coverage either the motorcycle operator or their passenger might have. Damages can be sought to cover all past and future medical bills, loss of income, pain and suffering.
Texas Law Regarding Child Passengers
Despite the fact that motorcycles can be incredibly dangerous in the event of a wreck, Texas does permit children as young as five year old to ride pillion; and younger children may ride in a sidecar or even as a regular passenger in the case of emergencies. All motorcycle operators and passengers aged 21 or younger are required to wear a motorcycle helmet in Texas.
Hiring a Dallas-Fort Worth Personal Injury Lawyer
If you or someone you love was injured in a Texas motorcycle accident it is important that you consult with a board certified trial lawyer who is experienced in handling motorcycle accidents. Mark Anderson has handled many personal injury and wrongful death cases throughout the Dallas-Fort Worth metroplex and across Texas. He is also the author of the book

Roadmap To Winning Your Texas Motorcycle Accident Case

.
The Anderson Law Firm offers completely free, no obligation consultations to motorcycle crash victims and their immediate family members. We will help you identify all liable insurance policies available and give you our honest appraisal of your case. To speak with an attorney in confidence today, please call us toll free at 800-354-6275 or locally at 817-294-1900.
Other Articles You Might Be Interested In:
Motorcycle Accidents 101
Passenger Rights in Texas Accidents
Fatal Motorcycle Accidents
5 Things Every Parent Should Know About Bike Helmets
Paralysis Injuries