Summertime means fun outdoor activities and boating is one of the favorites for many Texans. It's no wonder since our state has more square miles of inland water than any other state. But with any recreational activity involving a motorized vehicle, one has to be careful to avoid accidents. As a Fort Worth personal injury and wrongful death lawyer, I know that last year in Texas, there were 271 boating accidents resulting in 61 fatalities.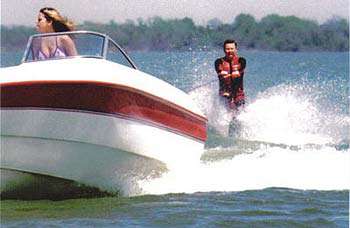 Many people boat and aren't fully aware of basic laws surrounding the sport. Here are a few of the relevant Texas laws:

Who May Operate:
A person under the age of 13 may operate a boat or a personal watercraft if they are accompanied on board by a person 18 years or older.

A person 13 to 17 may operate if he or she is accompanied on board by a person 18 years or older OR has passed a boater education course approved by the Texas Parks and Wildlife Department.
Personal Watercraft (PWC) laws:
Each person riding on or being towed behind a PWC must wear a U.S. Coast Guard Approved personal flotation device.

If the PWC comes with a lanyard-type ignition safety switch, then it must be used by attaching it to clothing or a life vest.

It is illegal to:
Operate a PWC between sunset and sunrise.

Operate a PWC within 50 feet of another boat or PWC, a person, a stationary platform or the shoreline.

Operate a PWC in a manner that causes the operator to swerve at the last possible moment to avoid a collision.

Chase, harass or disturb wildlife with a PWC.

Operate a PWC with more than the rated number of persons allowed.

Water Ski laws:
It is illegal to tow a water skier from 1/2 hour after sunset to 1/2 before sunrise

Every vessel towing a skier must either have an observer (13 years or older) other than the vessel operator OR have a firmly mounted rear-view mirror at least 4-inches by 4-inches in size (most PWC mirrors do not meet these requirements).

Drinking Alcohol:
Having open containers is legal (remember, it's not legal to have open containers in cars), but it is illegal to boat while intoxicated

Like vehicular DWI, your driver's license will be suspended for 180 days if you refuse to give a breath specimen.

A complete copy of The Handbook of Texas Boating Laws and Responsibilities can be obtained from the TP & W website.
If either yourself or someone you care for has been injured in a lake or water sports accident anywhere in Texas, call a board certified persona injury lawtyer for a free consultation. Call locally in Fort Worth at 817-294-1900 or call toll free from anwhere in Texas at 800-354-MARK (6275).
Other Articles You Might Be Interested In:
Boating or other water-related accidents
Lake and Boating Accidents in Dallas-Fort Worth
The Severity Of Injuries Affects Your Personal Injury Case
How Much Does It Cost To Hire An Attorney?
Injuries to Children